Join us at the Charles Schwab campus in Lone Tree for the 6rd Annual Freedom 4-Miler! Our vendor expo area, stage, registration, port-o-lets and Start/Finish line will all be in the main parking lot area. FREE parking will be available.
Race Day Schedule
| | |
| --- | --- |
| 6:30 AM | Registration Opens |
| 7:45 AM | National Anthem, Opening Remarks |
| 8:00 AM | 4 Miler Starts |
| 8:15 AM | 1 Miler Starts |
| 9:30 AM | Finisher Awards Ceremony |
| 9:45 AM | Costume Contest |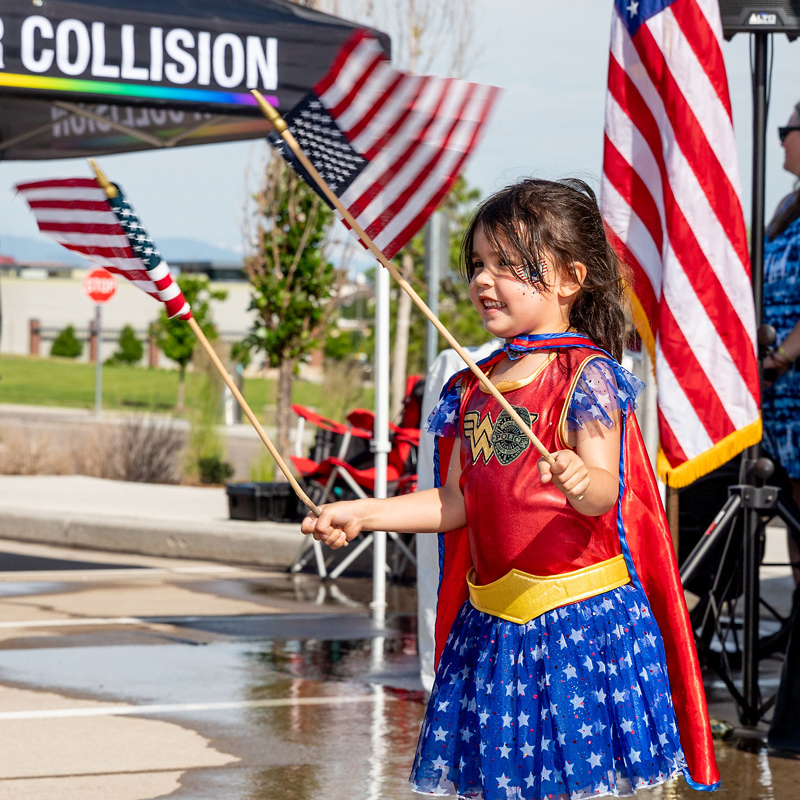 Patriotic Costume Contest with CA$H Prize!
What better way to kick off Independence Day weekend than with the Freedom 4 Miler Patriotic Costume Contest?!
To be entered in the contest, simply don your MOST patriotic apparel, and fill out the required info at the event. Not sure what to wear? You can dress up in as simple as red, white, and blue clothing—or get as crazy as you want, as long as you're still able to get around, of course! Think Captain America, Uncle Sam, Lady Liberty, bald eagles, Washington Crossing the Delaware, etc. The more goofy, fun, light-hearted, and patriotic— the BETTER!
The winner will receive a CASH PRIZE of $247, the age of our great nation as of July 4, 2023.
Frequently Asked Questions
Freedom 4-Miler Virtual Run
Get RIDICULOUSLY patriotic and walk/run. Complete the virtual race any time between June 1 and July 4. Complete the distance you registered for, wherever you want!
Submit your finish time via runsignup.com by July 4 at 11:59 PM Mountain time.
Social Proof It! Post your run on social media and tag @FreedomFourMiler and/or @ColoradoVeteransProject event page and use the hashtag #Freedom4MilerVirtual
Earn your spot on the leaderboard and

view the results

.
Get your SWAG! Register by June 8th th and get your swag shipment in time for July 4th.
Frequently Asked Questions
Location
Anywhere! Your neighborhood, treadmill, trail, track. The possibilities are endless!
Date & Time
Anytime between June 1st and midnight on July 4th, Independence Day.
Course Type & Length
You can choose between a 4-Mile and 1-Mile challenge, but you'll be in charge of deciding on your own route. If you really want to get technical, we recommend using a phone app like MapMyRun, RunKeeper or Strava to track your distance, route, and time.
Whether it's treadmill, road, or trail, don't forget about local social distancing guidelines!
Stroller Friendly?
Deck the little ones out in their most patriotic gear and get them in on the fun – Don't forget about the virtual COSTUME CONTEST!
Dog Friendly?
Of course! Best dressed pup gets an award too!
Reporting
For tracking your distance and time, you can use whatever app or system that works best for you. All we need is the finish time. We use the honor system to verify results. To report finish time, go to runsiggnup.com and follow the prompts. Submit your info by July 4 at 11:59 PM Mountain time!
Results
View here to see how you stack up. Make sure you submit photos or videos of you completing your course. If you'd like it to be shared on social media, email info@coloradoveteransproject.org or visit the event page at facebook.com/freedom4milerCO/.
SWAG
For the virtual, you'll earn a Finisher's Medal, T-Shirt, and Race Bib. These will be shipped to the address provided on runsignup.com. Each registration raises funds to support local Veterans and Veteran Service Organizations.
Once registration is paid for, we cannot change your order. Buffs, medals & bibs will start arriving to early registrants by end of June. Registrations processed after June 15 will ship as detailed below. If your selected shirt size is out of stock, we will substitute for you.
SWAG Shipping Deadlines:
Register by June 8: Shipment will arrive by end of July
Last day to register for a T-shirt: is July 1 (shipment arrives after the holiday)
Note: Swag shipments may come separately.
Register to
Earn

Your:

★ Exclusively designed Race T-Shirt
★ Finisher's Medal
★ Timing Bib
★ Free Unlimited Entries to Costume Contest
★ That great feeling knowing that your money is going to a GOOD cause!